Welcome! Expose- Embarrass- Punish the Corrupt
Note : You can make comments on most of the pages in addition to at the forum
My original site is stll maintained- but it is not available all the time because of server problem
29/5/07 KIC Order on assets & liabilities of IAS officers page 1 page 2 page 3 page 4 page 5
Complaints received - Help sought
Indian Express 26/5/07 Website to fight corruption- Mangalore Edition
Indian Express 26/5/07 Website to fight corruption- Bangalore Edition
Times of India 24/5/07 Chief Secretary cold to whistleblower case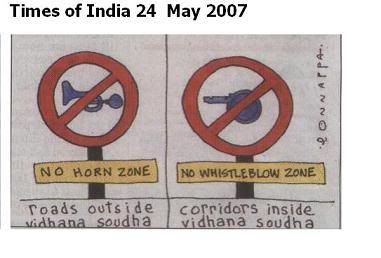 I am Jayashree J.N, married to an IAS officer M.N.Vijayakumar of Karnataka Cadre who has served in Karnataka for the last 25 years. He is a Principal Secretary Grade officer.
If the site appears too personal it is intended to be like this as people who want to support us should know very clearly what we are
My husband is continuously fighting corrupt practices in the system. As there is harassment to my husband for exposing the corrupt practices of the senior officers, and as the harassment is silently watched (or more probably supported) by the head of the bureaucracy,.
RTI Kills Corruption
.
.
Our Strategy
Attack the bureaucrats who conspire with politicians to loot the country so that it becomes almost impossible for any politician to make wealth by corrupt means by cheating the public using willing corrupt bureaucrats of his choice
Get a ruling that the requirement of every government SERVANT to work with ABSOLUTE INTEGRITY allows him to whistleblowing. When a large number of honest officials are freed from the fear of harassment by the mighty corrupt , major changes to acheive corruption free services becomes possible
.
.
Corruption is Evil
What Are You ?
I also decided to take up his causes.To know my husband's style of functioning in using technology for increasing transparency. read this
I have extensively used RTI Act to expose dereliction of duty by the Chief Secretary in handling corruption issues..
My husband has continued his efforts to attack corruption at the root without being afraid of the threats he received and harassment meted out to him. From September 2006 to February 2007 my husband has been transferred six times in six months, each time for reporting serious corrupt practices by senior officers. He has also informed the Chief Secretary in writing that he would like to watch to what level the corrupt would be protected and then approach the CAT and other Authorities. He hopes to get decisions from appropriate authorities that the requirement of absolute integrity in Service Rules also provide protection to the Whistle Blowers. Because of this he has not gone immediately to the CAT and there is another major reason which he will be revealing at appropriate time. As long as Government servants with integrity are threatened , there is no way corruption can be contained. He wants publc pressure to be built to either for the immediate enactment of the The Public Service Law or at least for immediate enactment of provisions relating to protection of Whistle Blowers .
Recently after he took charge as Regional Commssioner, Bangalore (but was transferred within 20 days after posting) he introduced a system using the provisions of the Right to Information Act in an innovative way, where in public are allowed to see files without making any application between 2.30 pm and 5.30 pm on every second and fourth tuesday of every month.He also planned to make web viewing of the file. These developments threatened many corrupt people and he was transferred just 2 days before the launch of the program . However, his efforts have been widely reported and it is hoped that citizens will demand for its operation.You can visit the related website here and the latest here to know how he is fighting against corruption in his latest posting in spite of not having any facilities.
Most of the RTI groups and websites address corruption at lower levels. There are hardly any groups dealing with corruption at higher levels. I thought there is a need to provide a platform for any person wishing to fight corruption at high levels and provide assistance based on the rich experience my husband has in fighting corrupt practices of his senior officers and I am aware of most of them as I have also taken up some of the issues raised by him independently using the RTI Act. This site gives details of his continuous struggle against corruption and also details of what I am doing to fight corruption..
This website has the following main objectives:
To provide a platform for any person who wishes to fight corruption at higher levels and in particular the root of corruption
To provide help to those who have knowledge of corruption but are afraid to take further action. If for any reason, such a person is unwilling to take up the corruption issue, to make arrangements to take up the issues on behalf of such a person.
Create awareness to initiate a movement to demand corruption - free service as a Fundamental Right
To create a network of like minded people to fight corruption at high levels and also proactively join with similar organizations
To share the experiences of using the Right to Information Act in fighting corrupt practices at high level and also provide links to similar actions taken up elsewhere in the country and rest of the world
From the experiences of my husband , to achieve the above, there is an immediate need to do the following to help honest officers to work without being intimidated:
To get a Ruling that the requirement of absolute integrity under the Service Rules already allows Whistle Blowing. In view of this to hasten the enactment of the Public Services Bill
To help to make better provisions for whistle blowers under the Public Services Bill
To make the Act applicable to even State Government Officials immediately and not to give any discretion to State Governments in this regard
No. Visited

Note: To add comments press "add a new comment" button in the Comments section below
Key in your comments in the box that opens , then press "SAVE" button. For any reason you donot want the comments to be posted press "cancel" button. Pl dont upload images or audio or video files. If it is absolutely necessary give a link in the following manner:
two open square brackets url of the site containig the file, leave a blank space, then description of what you want to refer, two close square brackets.
The other method is to use press the infinity symbol and replace the description text with what you want to say and instead of http://www.example.com replace it with your url