What's New
Note : You can make comments on most of the pages in addition to at the forum. To actively contribute you will have to become a member of the wikidot site. Later once you inform by mail , password by return email will be sent. If you are new to wiki this may appear little confusing.Please feel free to seek any clarification. The power of wiki is needed to tackle a very difficult issue like corruption. Initially response may be slow, but the wait wil be worth
…How many know that some NGOs have declared after a detailed survey and published statistics that Karnataka is the most most corrupt state in India Yes ahead of Bihar and UP What a privilege!…- Read the Guestbook
My Thanks to all those who are supporting me and what they can do further
The following are the LATEST
Read the article published on 12/9/10 in Financial Express about whistleblowers here
Indian Express report dated 2/8/10 on File indicting IAS officer in cash-for-votes case goes missing
Read here What Indian Express reported on 27/7/10 about 36 IAS officers in Karnataka have something to hide
Headless ,campaign for RTI may lose steam DNA 13/7/10
Read the Article in Hindi on whistleblowers of India in Navbharat Times which appeared on 3/4/2010
NewX TV report broadcasted on International Anti-Corruption Day (9/12/09) about Whistleblowers of India Part I ,, Part II ,, Part III
Whistleblowers are not protected here DNA 9/12/09
Anti-corruption stickers fixed on Government Vehicles on 9/12/09 by us
Letter sent to each IAS Officer of Karnataka to participate in the International Anti-Corruption Day
My responses to details sought by the Integrity Vice-Presidency of the World Bank on 12 nov 09
Reaction of Lokayukta, Karnataka given to ETV on 9/11/09 in connection with NFIW exposing Corrupt IAS Officers getting High Level Committee clandestinely abolished during President's Rule and keeping it a secret till recently
My letter dated 8/11/09 addressed to the Home Ministry and The Integrity Vice-Presidency of World Bank in connection with my complaint against IAS officers
Prajavani (Kannada newspaper) reports NFIW protesting in front of the house of a Corrupt IAS Officer 8/11/09
NFIW letter dated 21/10/09 addressed to the Chief Secretary to GOK to restore systems to curb corruption
Revive panel on anti-corruption The Hindu 3 Oct 09
NFIW wants IAS officers to declare assets Deccan Herald 2/10/09
Press note given on 1/10/09 requesting the new Chief Secretary to immediately act by reviving systems meant to curb corruption
Anti-Corruption 2.0: What's your say on corruption? Transparency International on JN Jayashree's powerful way of fighting corruption 30/7/09
High Level Committee on Anti-Corruption Gazette Notification which was was got abolished by corrupt IAS Officers
My complaint to the Integrity Vice Presidency of the World Bank against corrupt IAS officers who stealthily got the High Level Committee on Anti-Corruption abolished on 2/11/07 and kept it secret till 20/7/09
My complaint to the President of India against Sri Sudhakar Rao, Chief Secretary of Karnataka
My letter to the Chairman Bar Council Of Karnataka
KARNATAKA IAS OFFICERS ASSOCIATION REQUESTED TO STOP MOCKERY OF REPUBLIC DAY ON 6/2/09
Lokayukta Report names five IAS officers of Karnataka cadre for causing Rs 751 Cr loss Times of India
Another website to help citizens to fight corruption launched on International Anti-corruption Day
United Nation's Anti-corruption Website Observe International Anti-corruption Day on 9/12/08. SAY NO TO CORRUPTION
My letter dated 6/12/08 to the Karnataka IAS Officers' Association to observe International Anti-corruption Day on 9/12/08 7/11/08 with copies to the Lokayukta and the Chief Secretary.
My letter to the Karnataka IAS Officers' Association to take pledge on the occasion of Rajyotsava and Deepavali celebrations organised along with IAS officers" wivees Association on 7/11/08 with copies to the Lokayukta and the Chief Secretary.
My complaint to the Lokayukta against Sri Sudhakar Rao, Chief Secretary Government of Karnataka . Complaint Number COMPPT?LOK/BCD/413/2008..
My complaint against Chief Secretary Sri Sudhaka Rao,filed with CBI in October 2008
Information obtained under the RTI Act exposes the Chief Secretary Sri Sudhakar Rao
Transparency International Ranks Karnataka Under 'VERY HIGH' CATEGORY Times of India 2 Sept 2008
Extract from UNDP Report Page 133: Tackling Corruption, Transforming Lives released on 12/6/08 about this website
IAS Officer's Wife Told to be Quiet Indian Expres 15 April 2008
See my Press Note dated 8/4/08 here.
My letter to the Governor of Karnataka dated 2/4/08 here.
See my letter to the President of India dated 3/4/08 here.
See my letter dated 25/3/08 to the Chief Secretary here.
See Chief Secretary rejecting my husbands request to even attend an Integrity function obtained under the RTI Act here.
Podbharti episode that contains Jayashree's interview by Debashish Chakrabarty 4/4/08
CADA initiative controls useless expenditure Samyukta Karnataka 14 Mar 2008
Women Commission ex -Chairperson terms action of Secretary Women and Child Development Department illegal Kasturi TV News 13 march 2008
Govt questions very basis of women's Panel- Activist Jayashree is aghast, moves Lokayukta - Bangalore Mirror 9 March 2008
Women's panel not constituted properly Indian Express 7 /3/08
Complaint No COMPT/LOK/BCD/93/2008 filed with Lokayukta against Secretary DPAR for ignring te Directions given by the Governor to shield the corrupt and for harassing honest officials 6/3/08
Complaint No COMPT/LOK/BCD/95/2008 filed with Lokayukta against Secretary Woman and Child Develop Department ocausing problems to distressed women because of maladministration 6/3/08
Mahishi shown the door, Rao is new CS Indian Express 7 Feb 2008
Housing Board money was used to make films Mid-Day Feb 6,08
Mahishi case mystery has Governor's secy fuming Mid-Day Feb 6,08
Instead of being put in jail, he was made Karnataka's No 1 bureaucrat - Mid-Day Feb 5,08
Anti-coruption Drives Reported in Belgaum Newspapers 30/1/08
Anti-coruption Drives Reported in Belgaum Newspapers 19/1/08
Fighting Corruption in India - The Guardian Weekly 17/1/08
Your Right To Information Lies In An Act! -oneindia.in
Crussaders needed at grassroots to root out corruption Deccan Herlad 29/12/07
Copy of representation given to the Governor of Karnataka released to the media on 9/12/07 by a group of 12 organisations based on information collected under the RTI Act by this site .
Leaflet given to public on the occassion of International AntiCorruption Day on 9/12/07
RTI Act weapon to fight corruption in Administration Deccan Herald 4 DEC 2007
Voice Against Corruption- 3 Dec 2007 Deccan Herald and other Reorts in Kannada
CADA Chief's 3 'sutra' for official probity
Corruption ranking by Pragati Belagavi- Indian Express 15 Nov 07 and other reports in Kannada
Pragati Belagavi launches website
Pragati Belagavi's initiative to help auto commuters- Samyukta Karnataka 12/11/07 report in Kannada
Clean launches Gandhigiri ,vows to release corruption list - Indian express 5/11/07 Belgaum Edition
Mr Clean's wife demands CBI probe Indian Express Belgaum Nov 4
Samyukta Karnataka 11/4/07 report
My letter to Governor of Karnataka from Belgaum- 3/11/07
Women Commission Order in full upholding Jayashree's action
Chief Secy's remarks irks Women's Commission - Deccan Herald 28/10/07
'Pragati Belagavi' Launched to Check Corruption- Deccan Herald and other News Papers 26/10/07
Jayashree J.N: A Whistle Blower With A Foresight - ONEINDIA 15 Oct 2007
The courage to fight corruption- the undercurrent.ca- 9/10/07
Launch People's forum to fight corruption-Reports from Belgaum Deccan Herald and others
Right to Refuse Information- 'Extremely Unfair'- Bangalore Mirror 5 oct 2007
Vijayakumar mobilises citizens to fight corruption in Belgaum- 3 & 4 oct 2007
Mr Clean Launches Gandhigiri in CADA- Times Of India 30 Sept 07
After Netas Babus join Defaulters list- Times Of India 29 Sept 07
CADA Chief makes office his abode- Times Of India 27 Sept 07
Misuse of authority by Chief Secretary to escape from law 20/9/07 Info taken under RTI Act
Skeleton in Mahishi's closet - Bangalore Mirror 19 Sept 2007
FIR against PB Mahishi in a criminal conspiracy case to defraud Rs 8.48 crores - Times of india (kannada) 17/9/07
Taking on corruption Web 2.0 Style Bangalore Mirror14 Sept
majority (76 pc) perceived that projects in the city(Bangalore) are plagued by corruption- Deccan Herald 12/9/07
Fighting Corruption in Kaarnataka: a new style - Catalyst for human development journal report
[Cada bid to clean Augean stables -People have the Right to know what is happening in CADA- Press reports on MN Vijayakumar's efforts- 12/9/07
Supression and distortion of facts by Sri P.B.Mahishi,IAS Chief Secretary Of Karnataka in his letter to GOI about Sri M.N.Vijayakumar, IAS- My letter to GOI based on information collected by me under RTI Act-10/9/07
Information under RTI to show why Karnataka is fourth most corrupt state in the country and may be becoming the worst- as on 9/9/07
To see the farce of police protection given to me see the police beatbook from 22/8/07 to 7/9/07 during which period my house was locked as I was away performing various rituals in connection with my mother-in-law's death on 24/8/07
CBI FIR filed against SRi P.B.Mahishi sent by honest Government servants from Karnataka on 21/8/07
Whistle Blowers-Transparency International
Crusader uses Internet in war against corruption 16 August 2007 rediff News
India Today (Independence Day Special - Woman Making a Difference- The Quest)
The Times of India, dated 14/8/07- New Light for Defunct PSU
The Times of India, dated 12/8/07 Online Lifeline
47. GFILES Interview, August 2007
The Tribune, Chandigarh dated 5/8/07 Housewife's hi-tech crusade
My husband's letter to the President of India dated 22/7/07
Prajavani dated 20/7/07 reports Memorandum submitted to the Governor by the Mahiti Hakku Vedike against Chief Secretary
A woman's fight against corruption- GulfNews 12/7/07
Woman ignites a 'World War' - against corruption- Indian Express 9/7/07
In India, Protecting a Whistle-Blower -The New York Times 5/7/07
Technology keeps a whistleblower alive- Deccan Herald 4/7/07
Whistle-blower in India uses a blog for protection- International Herald Tribune 2/7/07
INDE • 26 juin 2007 Un site qui fait trembler l'administration The site that is scaring the (Indian) administration
26/6/07-Today's News -My husband transferred 7th time- to shield the corrupt
Complaint against Mahishi to Women's Commission Praja Vani 16/6/07
My complaint against Chief Secretary to women's Commission dated 15/6/07
Vijayakumar moves Lokayukta Deccan Herald 13/6/07
Chief Secretary: stop harassing us
Deccan Herald 2/6/07 Sentries stop Mysore Lamps MD... on fiat from top?
Times of India 31/5/07 RTI refers information matter to govt
JOIN THE LEGAL BATTLE HERE
Read what others have said recently and give your views here
Times of India 31/5/07 RTI refers information matter to govt
Deccan Herald 30 May 2007 IAS officers' assets a public matter?
29/5/07 KIC Order on assets & liabilities of IAS officers page 1 page 2 page 3 page 4 page 5
HALL OF SHAME added-27 MAY 2007
Instruction for joining this site added 26 MAY 2007
Complaints received - Help sought 25 May 2007
Indian Express 26/5/07 Website to fight corruption- Mangalore Edition
Indian Express 26/5/07 Website to fight corruption- Bangalore Edition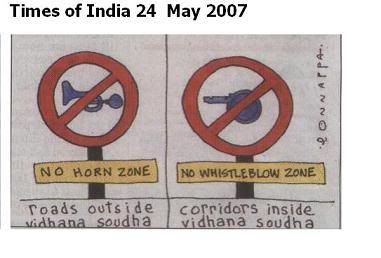 Times of India 24/5/07 Chief Secretary cold to whistleblower case
My Letter dated 21/5/07 addressed to H.E. the Governor of Karnataka
Indian Express 23/5/07 report on my RTI -Govt Caught on wrong foot
Times of India 13/5/07 report on my husband's innovative efforts using RTI
Indian Express report 10 /5/07 on my RTI-Chief Secretary of Karnataka : corruption is not a priority issue