News Papers/Media Reports
108 Bangalore Mirror 16/3/2011 give us work : Mysore Lamps Staff to Govt
107. Bureaucracy Today (28/2/2011) carries JNJ's views on CVC
106. Protest against CIC appointee gathers storm DNA Bangalore 13/1/2011
105. Watch the video here of our march on 9th Dec 2010 in front of Vidhana Soudha, Bangalore
104 Read about our efforts in Bureaucracy Today (7/12/10) here : Page 1 and page 2
103 Read the article published on 12/9/10 in Financial Express about whistleblowers here
102 Indian Express report dated 2/8/10 on File indicting IAS officer in cash-for-votes case goes missing
101. Read here What Indian Express reported on 27/7/10 about 36 IAS officers in Karnataka have something to hide
100. Headless ,campaign for RTI may lose steam DNA 13/7/10
99. Read the Article in Hindi on whistleblowers of India in Navbharat Times which appeared on 3/4/2010
98. NewX TV report broadcasted on International Anti-Corruption Day (9/12/09) about Whistleblowers of India Part I ,, Part II ,, Part III
97. Whistleblowers are not protected here DNA 9/12/09
96. Reaction of Lokayukta, Karnataka given to ETV on 9/11/09 in connection with NFIW exposing Corrupt IAS Officers getting High Level Committee clandestinely abolished during President's Rule and keeping it a secret till recently
95. Prajavani (Kannada newspaper) reports NFIW protesting in front of the house of a Corrupt IAS Officer 8/11/09
94. Revive panel on anti-corruption The Hindu 3 Oct 09
93. NFIW wants IAS officers to declare assets Deccan Herald 2/10/09
Anti-Corruption 2.0: What's your say on corruption? 92 Transparency International on JN Jayashree's powerful way of fighting corruption 30/7/09
India's corrupt babus NDTV 4/6/09
91 Lokayukta Report names five IAS officers of Karnataka cadre for causing Rs 751 Cr loss Times of India
90 Extract from UNDP Report Page 133: Tackling Corruption, Transforming Lives released on 12/6/08 about this website
89. CADA controls useless Expenditure Samyukta Karnataka 14 Mar 2008
88 Women Commission ex -Chairperson terms action of Secretary Women and Child Development Department illegal Kasturi TV News 13 march 2008
87. Govt questions very basis of women's Panel- Activist Jayashree is aghast, moves Lokayukta - Bangalore Mirror 9 March 2008
86. Women's panel not constituted properly Indian Express 7 /3/08
85. Mahishi shown the door, Rao is new CS Indian Express 7 Feb 2008
84. Housing Board money was used to make films Mid-Day Feb 6,08
83. Mahishi case mystery has Governor's secy fuming Mid-Day Feb 6,08
82. Instead of being put in jail, he was made Karnataka's No 1 bureaucrat - Mid-Day Feb 5,08
81. Anti-coruption Drives Reported in Belgaum Newspapers 30/1/08
80. Anti-coruption Drives Reported in Belgaum Newspapers 19/1/08
79. Fighting Corruption in India - The Guardian Weekly 17/1/08
78. Crussaders needed at grassroots to root out corruption Deccan Herlad 29/12/07
77. War against graft Deccan Herald 10/12/07
76. RTI Act weapon to fight corruption in Administration Deccan Herald 4 DEC 2007
75. Voice Against Corruption- 3 Dec 2007 Deccan Herald and other Reorts in Kannada
74 CADA Chief's 3 'sutra' for official probity
73. Pragati Belagavi's initiative to help auto commuters- Samyukta Karnataka 12/11/07 report in Kannada
72. Clean launches Gandhigiri ,vows to release corruption list - Indian express 5/11/07 Belgaum Edition
71. Mr Clean's wife demands CBI probe Indian Express Belgaum Nov 4
70. Samyukta Karnataka 11/4/07 report
69. Kannada Prabha 11/4/07 report
68. Chief Secy's remarks irks Women's Commission - Deccan Herald 28/10/07
67. "Pragathi Belgaum" to fight corruption - Indian Express 26/10/07
66. 'Pragati Belagavi' Launched to Check Corruption- Deccan Herald and other News Papers 26/10/07
65. Jayashree J.N: A Whistle Blower With A Foresight - ONEINDIA 15 Oct 2007
64. The courage to fight corruption- the undercurrent.ca- 9/10/07
63. Launch People's forum to fight corruption-Reports from Belgaum Deccan Herald and others
62. Right to Refuse Information- 'Extremely Unfair'- Bangalore Mirror 5 oct 2007
61. Vijayakumar mobilises citizens to fight corruption in Belgaum- 3 & 4 oct 2007
60. Mr Clean Launches Gandhigiri in CADA- Times Of India 30 Sept 07
59. After Netas Babus join Defaulters list- Times Of India 29 Sept 07
58. CADA Chief makes office his abode- Times Of India 27 Sept 07
57.Skeleton in Mahishi's closet - Bangalore Mirror 19 Sept 2007
56. FIR against PB Mahishi in a criminal conspiracy case to defraud Rs 8.48 crores - Times of india (kannada) 17/9/07
55. Taking on corruption Web 2.0 Style Bangalore Mirror14 Sept
54.majority (76 pc) perceived that projects in the city(Bangalore) are plagued by corruption- Deccan Herald 12/9/07
53. Fighting Corruption in Kaarnataka: a new style - Catalyst for human development journal report
[52. Cada bid to clean Augean stables -People have the Right to know what is happening in CADA- Press reports on MN Vijayakumar's efforts- 12/9/07
51. Crusader uses Internet in war against corruption 16 August 2007 rediff News
50. India Today (Independence Day Special - Woman Making a Difference- The Quest)
49.The Times of India, dated 14/8/07- New Light for Defunct PSU
48. The Times of India, dated 12/8/07 Online Lifeline
47. GFILES Interview, August 2007
46. The Tribune, Chandigarh dated 5/8/07 Housewife's hi-tech crusade
45.Prajavani dated 20/7/07 reports Memorandum submitted to the Governor by the Mahiti Hakku Vedike against Chief Secretary
44. A woman's fight against corruption- GulfNews 12/7/07
43. Woman ignites a 'World War' - against corruption- Indian Express 9/7/07
42. In India, Protecting a Whistle-Blower -The New York Times 5/7/07
41. Technology keeps a whistleblower alive- Deccan Herald 4/7/07
40. Whistle-blower in India uses a blog for protection- International Herald Tribune 2/7/07
INDE • 39. 26 juin 2007 Un site qui fait trembler l'administration The site that is scaring the (Indian) administration
38. Case against Mahishi posted to July 10 The Hindu 26/6/07
30 Deccan Herald 2/6/07 Sentries stop Mysore Lamps MD... on fiat from top?
29 Times of India 31/5/07 RTI refers information matter to govt
27 Deccan Herald 30 May 2007 IAS officers' assets a public matter?
26. Indian Express 26/5/07 Website to fight corruption- Mangalore Edition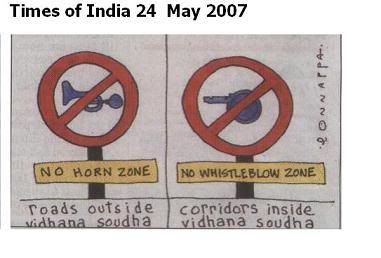 25. Indian Express 26/5/07 Website to fight corruption- Bangalore Edition
23. Times of India 24/5/07 Chief Secretary cold to whistleblower case
22. Bangalore May 24 Report on TimesNow_
21. Indian Express 23/5/07 report on my RTI -Govt Caught on wrong foot
20. Bangalore May 19 Live Interview on StarNews
19. Times of India 13/5/07 report on my husband's innovative efforts using RTI
18. Bangalore May 16 Report on TimesNow
17. Indian Express report 10 /5/07 on my RTI-Chief Secretary of Karnataka :corruption is not a priority issue
16. Bangalore May 9 : TV9
15. Bangalore, May 7 :Mysore lamps: Govt to be told about lack of infrastructure DECCAN HERALD 7 MAY 2007
14 .News item about Information Commissions directive in the Kannada Daily VIJAYA KARNATAKA 6 MAY 2006
13. Bangalore, May 6 : Info Commission bats for IAS officer DECCAN HERALD 5 MAY 2007
12. Mumbai Apr 29 : A company without employees MUMBAI MIRROR 29 APR 2007
11. Bangalore, Apr 21 : MD gropes in dark!! DECCAN HERALD 21 APR 2007
Bangalore, Apr 20 :M.N Vijayakumar's six transfers in six months and his using the RTI Act against the government reported in CNN IBN on 20 APR 07
9. Bangalore, Apr 17 : the last transfer made a day before the launch of a system to show files to citizens anywhere in the world using web camera reported in INDIAN EXPRESS 17 APR 07
8. Bangalore Feb 25.: Caption (translated) reads : Write , if bribe is demanded Prajavani 25 FEB 2007
7. Bangalore, Feb 24 : Regional Commissioner, Bangalore allows citizens to peek at official files DECCAN HERALD 24 FEB 2007
6. Bangalore, Feb 12 : Regional Commissioner(M.N.Vijayakumar) has issued a circular whicgh permits citizens to inspect files between 2:30 pm to 4:30 pm on every second and fourth tuesday of every month. INDIAN EXPRESS 12 FEB 2007
Chief Secretary in soup over missing funds
5 Bangalore: IAS officer M N Vijaykumar informed the Lokayukta about the 'harassment' he is facing while fighting corruption. TIMES OF INDIA 1, FEB 2007
4. News item about the complaint lodged with the Lokayukta reported in the Kannada Daily VIJAYA KARNATAKA 30 DEC 2006
3. Bangalore, Sept 22: Senior IAS officer M.N.Vijayakumar at the Department of Disinvestment has paid the price for pointing out the "violation of government policies" by his boss Principal Secretary I Devendran..INDIAN EXPRESS 23 SEPT 2006
2. Bangalore.23.Secretary .TIMES OF INDIA 23, SEPT 2006
1. Bangalore, Sept 22:… INDIAN EXPRESS 23 SEPT 2006
All that is necessary for the triumph of evil is for a few good men to do nothing
Sorry, no match for the embedded content.