Old Page maintained from 2007 to 2009
If you are in a hurry to know why this website was started please read this and this and also this
The following are the LATEST
Pragati Karnataka a network of people to fight corruption launched on 18/1/2010
NewsX TV report broadcasted on International Anti-Corruption Day (9/12/09) about Whistleblowers of India Part I ,, Part II ,, Part III
Anti-corruption stickers fixed on Government Vehicles on 9/12/09 by us
Letter sent to each IAS Officer of Karnataka to participate in the International Anti-Corruption Day
My responses to details sought by the Integrity Vice-Presidency of the World Bank on 12 nov 09
Reaction of Lokayukta, Karnataka given to ETV on 9/11/09 in connection with NFIW exposing Corrupt IAS Officers getting High Level Committee clandestinely abolished during President's Rule and keeping it a secret till recently
My letter dated 8/11/09 addressed to the Home Ministry and The Integrity Vice-Presidency of World Bank in connection with my complaint against IAS officers
Prajavani (Kannada newspaper) reports NFIW protesting in front of the house of a Corrupt IAS Officer 8/11/09
NFIW letter dated 21/10/09 addressed to the Chief Secretary to GOK to restore systems to curb corruption
Revive panel on anti-corruption The Hindu 3 Oct 09
NFIW wants IAS officers to declare assets Deccan Herald 2/10/09
Press note given on 1/10/09 requesting the new Chief Secretary to immediately act by reviving systems meant to curb corruption
Anti-Corruption 2.0: What's your say on corruption? Transparency International on JN Jayashree's powerful way of fighting corruption 30/7/09
High Level Committee on Anti-Corruption Gazette Notification which was was got abolished by corrupt IAS Officers
My complaint to the Integrity Vice Presidency of the World Bank against corrupt IAS officers who stealthily got the High Level Committee on Anti-Corruption abolished on 2/11/07 and kept it secret till 20/7/09
My complaint to the President of India against Sri Sudhakar Rao, Chief Secretary of Karnataka
My letter to the Chairman Bar Council Of Karnataka
KARNATAKA IAS OFFICERS ASSOCIATION REQUESTED TO STOP MOCKERY OF REPUBLIC DAY ON 6/2/09
Lokayukta Report names five IAS officers of Karnataka cadre for causing Rs 751 Cr loss Times of India
Another website to help citizens to fight corruption launched on International Anti-corruption Day
United Nation's Anti-corruption Website Observe International Anti-corruption Day on 9/12/08. SAY NO TO CORRUPTION
My letter dated 6/12/08 to the Karnataka IAS Officers' Association to observe International Anti-corruption Day on 9/12/08 7/11/08 with copies to the Lokayukta and the Chief Secretary.
My letter to the Karnataka IAS Officers' Association to take pledge on the occasion of Rajyotsava and Deepavali celebrations organised along with IAS officers" wivees Association on 7/11/08 with copies to the Lokayukta and the Chief Secretary.
My complaint to the Lokayukta against Sri Sudhakar Rao, Chief Secretary Government of Karnataka . Complaint Number COMPPT?LOK/BCD/413/2008..
My complaint against Chief Secretary Sri Sudhaka Rao,filed with CBI in October 2008
Information obtained under the RTI Act exposes the Chief Secretary Sri Sudhakar Rao
India slips by 13 ranks while China improves in Transparency International's 2008 CORRUPTION PERCEPTIONS INDEX released on 24/9/08
India ranks (122) below Pakistan (74), SriLanka (103) Bangladesh (104) and Nepal(111), (In enforcing contracts India ranks 180 among 181 countries) says an annual World Bank report- Doing Business 2009 released on 11 Sept 2009
Transparency International Ranks Karnataka Under 'VERY HIGH' CATEGORY Times of India 2 Sept 2008
P Swaminathan's appeal dated 25/8/08 to CVC in a case which the Commission advised closure. See the appeal here
Whistleblowing is a must . Blow the Whistle to expose coruption Lieutenant colonel Akash Sachan blows whistle on another scam Times Of India and NDTV and IBN reports - 4/8/08
fightcorruption requests citizens to send links / media reports about whistleblowers for inclusion in the newly created OTHER WHISTLBLOWERS IN INDIA
Extract from UNDP Report Page 133: Tackling Corruption, Transforming Lives released on 12/6/08 about this website
Mystery death of Bengal BDO who exposed NREG fraud Trad about Kallol Sur, a 1995 West Bengal state Civil Services topper and a Block Development Officer
IAS Officer's Wife Told to be Quiet Indian Expres 15 April 2008
See my Press Note dated 8/4/08 here.
My letter to the Governor of Karnataka dated 2/4/08 here. and the acknowledgement here
See my letter to the President of India dated 2/4/08 here.
Fill the gap between police and public: Bedi Indian Express 29/3/08
See my letter dated 25/3/08 to the Chief Secretary here.
See Chief Secretary rejecting my husbands request to even attend an Integrity function obtained under the RTI Act here.
How these get Reported on 9/4/08 in Times of India - page 5 Wife Seeks IAS Officer's Suspension to save his Life and Deccan herald Suspend IAS officer's Wife writes to Governor and in The Hindu CADA official's life is under threat: wife
Podbharti episode that contains Jayashree's interview by Debashish Chakrabarty 4/4/08
I am only one. But I am still one. I cannot do everything. But still I can do something; And because I cannot do everything; Let me not refuse to do the something that I can
—Edward Everett Hale
Everyone wants to loot this country. The only deterrent is to hang a few corrupt persons from the lamp post," …The only way to rid the country of corruption is to hang a few of you from the lamppost. The law does not permit us to do it but otherwise we would prefer to hang people like you from the lamppost..- a bench of Supreme Court justices S.B. Sinha and Markandeya Katju 7/3/07
A popular Government without popular information or the means of acquiring it, is but a Prologue to a Farce or a Tragedy or perhaps both. Knowledge will forever govern ignorance, and a people who mean to be their own Governors, must arm themselves with the power knowledge gives. -
James Madison ,1822
…How many know that some NGOs have declared after a detailed survey and published statistics that Karnataka is the most most corrupt state in India Yes ahead of Bihar and UP What a privilege!…- Read the Guestbook
My Thanks to all those who are supporting me and what they can do further .
Whyi Wife Seeks honest Husband's Suspension? Kannada Prabha 9/8/08
Podbharti episode that contains Jayashree's interview by Debashish Chakrabarty 4/4/08
CADA initiative controls useless expenditure Samyukta Karnataka 14 Mar 2008
Women Commission ex -Chairperson terms action of Secretary Women and Child Development Department illegal Kasturi News 13 march 2008
Govt questions very basis of women's Panel- Activist Jayashree is aghast, moves Lokayukta - Bangalore Mirror 9 March 2008
Women's panel not constituted properly Indian Express 7 /3/08
Complaint No COMPT/LOK/BCD/93/2008 filed with Lokayukta against Secretary DPAR for ignring te Directions given by the Governor to shield the corrupt and for harassing honest officials 6/3/08
Complaint No COMPT/LOK/BCD/95/2008 filed with Lokayukta against Secretary Woman and Child Develop Department ocausing problems to distressed women because of maladministration 6/3/08
.
.
Mahishi shown the door, Rao is new CS Indian Express 7 Feb 2008
.
.
Housing Board money was used to make films Mid-Day Feb 6,08
Mahishi case mystery has Governor's secy fuming Mid-Day Feb 6,08
Instead of being put in jail, he was made Karnataka's No 1 bureaucrat - Mid-Day Feb 5,08
Lokayukta to probe CADA works Deccan Herald 1 Feb,08
Anti-coruption Drives Reported in Belgaum Newspapers 30/1/08
Anti-coruption Drives Reported in Belgaum Newspapers 19/1/08
Fighting Corruption in India - The Guardian Weekly 17/1/08
Your Right To Information Lies In An Act! -oneindia.in
Crussaders needed at grassroots to root out corruption Deccan Herlad 29/12/07
War against graft Deccan Herald 10/12/07
Copy of representation given to the Governor of Karnataka released to the media on 9/12/07 by a group of 12 organisations based on information collected under the RTI Act by this site .
Leaflet given to public on the occassion of International AntiCorruption Day on 9/12/07 .
RTI Act weapon to fight corruption in Administration Deccan Herald 4 DEC 2007
Voice Against Corruption- 3 Dec 2007 Deccan Herald and other Reorts in Kannada
CADA Chief's 3 'sutra' for official probity Indian Express 29 Nov 2007
Corruption ranking by Pragati Belagavi- Indian Express 15 Nov 07 and other reports in Kannada
Pragati Belagavi launches website
Pragati Belagavi's initiative to help auto commuters- Samyukta Karnataka 12/11/07 report in Kannada
Clean launches Gandhigiri ,vows to release corruption list - Indian express 5/11/07 Belgaum Edition and other Reports in Kannada
Mr Clean's Wife Demands CBI Probe 4/11/07 Indian Express and other reoprts
My letter to Governor of Karnataka from Belgaum- 3/11/07
Women Commission Order in full upholding Jayashree's action
Chief Secy's remarks irks Women's Commission - Deccan Herald 28/10/07
"Pragathi Belgaum" to fight corruption - Indian Express 26/10/07
'Pragati Belagavi' Launched to Check Corruption- Deccan Herald and other News Papers 26/10/07
Jayashree J.N: A Whistle Blower With A Foresight - ONEINDIA 15 Oct 2007
The courage to fight corruption- the undercurrent.ca- 9/10/07
Launch People's forum to fight corruption-Reports from Belgaum Deccan Herald and others
Right to Refuse Information- 'Extremely Unfair'- Bangalore Mirror 5 oct 2007
Vijayakumar mobilises citizens to fight corruption in Belgaum- 3 & 4 oct 2007
Mr Clean Launches Gandhigiri in CADA- Indian Express 30 Sept 07
After Netas Babus join Defaulters list- Times Of India 29 Sept 07
CADA Chief makes office his abode- Times Of India 27 Sept 07
Skeleton in Mahishi's closet - Bangalore Mirror 19 Sept 2007
FIR against PB Mahishi in a criminal conspiracy case to defraud Rs 8.48 crores - Times of india (kannada) 17/9/07
Taking on corruption Web 2.0 Style Bangalore Mirror14 Sept
majority (76 pc) perceived that projects in the city(Bangalore) are plagued by corruption- Deccan Herald 12/9/07
Fighting Corruption in Kaarnataka: a new style - Catalyst for human development journal report
Cada bid to clean Augean stables -People have the Right to know what is happening in CADA- Press reports on MN Vijayakumar's efforts- 12/9/07
Supression and distortion of facts by Sri P.B.Mahishi,IAS Chief Secretary Of Karnataka in his letter to GOI about Sri M.N.Vijayakumar, IAS- My letter to GOI based on information collected by me under RTI Act-10/9/07
Information under RTI to show why Karnataka is fourth most corrupt state in the country and may be becoming the worst- as on 9/9/07
Transparency quotes- Corruption in Quotes - in August 2007
To see the farce of police protection given to me see the police beatbook from 22/8/07 to 7/9/07 during which period my house was locked as I was away performing various rituals in connection with my mother-in-law's death on 24/8/07
CBI FIR filed against SRi P.B.Mahishi sent by honest Government servants from Karnataka
Protecting courageous whistleblowers Transparency International in action 14 /8/07
CBI FIR filed against SRi P.B.Mahishi sent by honest Government servants from Karnataka
Note : You can make comments on most of the pages in addition to at the forum
JOIN THE LEGAL BATTLE HERE
……………………………………………………………………………………From where people are visiting this site ?.
Complaints received - Help sought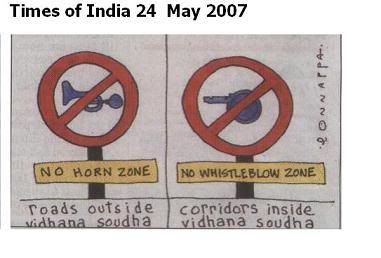 I am Jayashree J.N, married to an IAS officer M.N.Vijayakumar of Karnataka Cadre who has served in Karnataka for the last 25 years. He is a Principal Secretary Grade officer.I am also directly and indirectly involved with various agencies fighting corruption
If the site appears too personal it is intended to be so. We want the people who want to support us to know very clearly what we are.
My husband , a WHISLEBLOWER, is continuously fighting corrupt practices in the system. As my husband is being harassed for exposing the corrupt practices of the senior officers, and as this harassment is silently watched (or more probably supported) by the head of the bureaucracy,
I also decided to take up his causes independently.To know my husband's style of functioning in using technology for increasing transparency. read this
I started this website to mobilize like minded people across the country to fight against brazen corruption in Karnataka . The Chief Secretary sent a notice to my husband recently to the effect that he should either disown association with this website (created to fight against corruption) or else he should disassociate himself from me- i.e, he should divorce me! Against this obscene and pervert notice I have filed complaint against him with the Karnataka Women's Commission. See my complaint hereI have filed complaint with the Lokayukta against subverting Women Commission's Order directing Government to initiate action against certain officers including the then Chief Secretary Sri.P.B.Mahishi.
In spite of fatal threats faced by my husband and me, we are determined to mobilize like minded people against this total lawlessness in Karnataka. Incidentally Karnataka which has been graded as the fourth most corrupt state in India, now appears to be leading the country in corruption. This alone should tell why the fight against corruption can not be delayed any further. All these have made people of Karnataka to bow their heads in shame before others. Any self-respecting person staying in Karnataka should fight to remove this stigma by supporting honest people who are fighting corruption
RTI Kills Corruption
.
.
Our Strategy
Attack the bureaucrats, who conspire with politicians to loot the country, so that it becomes almost impossible for any politician to make wealth by corrupt means - by cheating the public using willing corrupt bureaucrats of his choice
Get a ruling that the requirement of every government SERVANT to work with ABSOLUTE INTEGRITY allows him to blow whistle. When a large number of honest officials are freed from the fear of harassment by the mighty corrupt, major changes necessary to acheive corruption free services becomes possible
.
.
Corruption is Evil
What Are You ?
I have extensively used RTI Act to expose dereliction of duty by the Chief Secretary in handling corruption issues..
My husband has continued his efforts to attack corruption at the root, without being afraid of the threats he received and harassment meted out to him. From September 2006 to June 2007 my husband has been transferred seven times in the last ten months, each time for reporting serious corrupt practices by senior officers(nothing technical about these transfers: entire purpose of these transfers were to keep my husband from pursuing the corrupt cases he reported. In a few cases he was prevented from functioning to shield the corrupt). He has also informed the Chief Secretary in writing that he would like to watch to what level the corrupt would be protected and then approach the CAT and other Authorities. He Has fIled case against the Chief Secretary for shielding the corrupt. He also hopes to get decisions from appropriate authorities that the requirement of absolute integrity in Service Rules also provide protection to the Whistle Blowers. Due to this, he has not gone to the CAT immediately and there is another major reason which he will be revealing at appropriate time. As long as Government servants with integrity are threatened , there is no way corruption can be contained. He wants public pressure to be built for immediate enactment of the The Public Service Law or at least for immediate enactment of provisions relating to protection of Whistle Blowers .
Recently after he took charge as Regional Commssioner, Bangalore (but was transferred within 20 days after posting) he introduced a system using the provisions of the Right to Information Act in an innovative way, where in public are allowed to see files without making any application between 2.30 pm and 5.30 pm on every second and fourth tuesday of every month. He also planned to make web viewing of the file. These developments threatened many corrupt people and he was transferred just 2 days before the launch of the program . However, his efforts have been widely reported and it is hoped that citizens will demand for its operation.You can visit the related website here. how he fought against corruption in his posting in spite of not having any facilities in the closed Mysore Lamps.. visit here to know what these corrupt officers did including the Chief Secretary and how my husband frustrated their efforts.
Under pressure from corrupt officers in the Commerce and Industries Department he has been shifted again after he submitted a revival plan for Mysore Lamps. But this time to a distant place Belgaum with you a view to finish him off. My husband's continued efforts in fighting corruption inspite of serious threats in Belgaum can be seen here
I have used the Right to Information Act to show how the Chief Secretary deliberately dismantled systems needed to check corruption. To one of my RTI applications ,the Chief Secretary has given reply in writing that corruption is a routine matter for him and he does not keep any information about it!!! The Chief Secretary has total disregard for the statutory authorities, he never cared for the directions issued by the Governor of Karnataka. See my letter to the Governor here for further details. The Chief Secretary threatned my husband in my presence and told my husband to report to the Lokayukta that the Chief Secretary does not take action against the corrupt and that the Chief Secretary shields the corrupt..
Most of the RTI groups and websites address corruption at lower levels. There are hardly any groups dealing with corruption at higher levels. I thought there is a need to provide a platform for any person wishing to fight corruption at high levels and provide assistance based on the rich experience my husband has, in fighting corrupt practices of his senior officers. I am aware of most of them as I have also taken up some of the issues raised by him independently using the RTI Act. This site gives details of his continuous struggle against corruption and also details of what I am doing to fight corruption..
This website has the following main objectives:
To provide a platform for any person who wishes to fight corruption at higher levels and in particular the root of corruption
To provide help to those who have knowledge of corruption but are afraid to take further action. If for any reason, such a person is unwilling to take up the corruption issue, to make arrangements to take up the issues on behalf of such a person.
Create awareness to initiate a movement to demand corruption - free service as a Fundamental Right
To create a network of like minded people to fight corruption at high levels and also proactively join with similar organizations
To share the experiences of using the Right to Information Act in fighting corrupt practices at high level and also provide links to similar actions taken up elsewhere in the country and rest of the world
From the experiences of my husband , to achieve the above, there is an immediate need to do the following to help honest officers to work without being intimidated:
To get a Ruling that the requirement of absolute integrity under the Service Rules already allows Whistle Blowing. In view of this to hasten the enactment of the Public Services Bill
To help to make better provisions for whistle blowers under the Public Services Bill
To make the Act applicable even to State Government Officials immediately and not to give any discretion to State Governments in this regard . . . . .
No. Visited
Sorry, no match for the embedded content.
Note: To add comments press "add a new comment" button in the Comments section below
Key in your comments in the box that opens , then press "SAVE" button. For any reason you donot want the comments to be posted press "cancel" button. Please dont upload images or audio or video files. If it is absolutely necessary provide a link in the following manner:
two open square brackets url of the site containig the file, leave a blank space, then description of what you want to refer, two close square brackets.
The other method is to use press the infinity symbol and replace the description text with what you want to say and instead of http://www.example.com replace it with your url